Summer Promotion
We are about to embark on a Winter Promotion, which will last until the end of December. If you sign up by before then, you will get a cleaner for the all-inclusive rate of just £9.00 per hour!
If you are an existing client, why not recommend this offer to friends and family? For every referral who goes ahead and stays with us for three months, we will send you a cheque for £25 as a sign of our appreciation.
So don't delay, refer a friend today.
The Joys of Housework?
A new book titled "Housework Blues: A Survival Guide" has been written by Danielle Raine. In it she identifies eight negative emotions associated with household chores:
Overwhelmed (Too much to do)
Injustice (I didn't make this mess, why should I clean it up?)
Futility (There's no point, it will only get messy again)
No energy (I'm too tired to do it)
Boredom (It's so monotonous)
Inferiority (Others can cope, but I can't)
Superiority (I was born to do better things than this)
Lack of motivation (I just want to do something else)
Wow, quite a list! However, I suppose we've all been there at some time or other. Thank heaven for our cleaners!
Request more client forms
Ian, if you wish to use something like the following form, then I'll produce one
If you need to order some extra client forms, please use the form below. You can also download the forms here.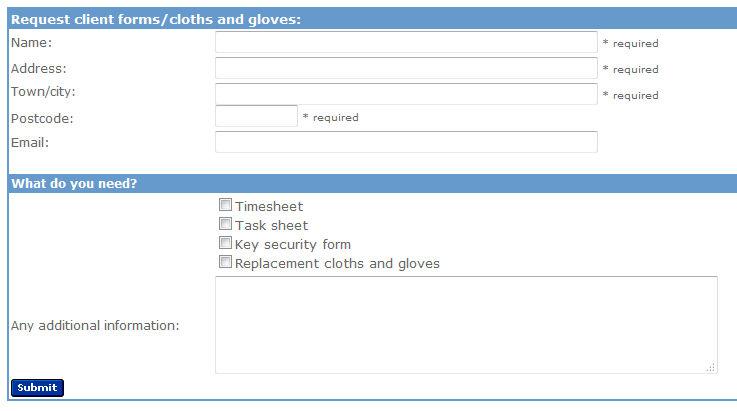 If you want to make a general enquiry please use our enquiry form.